Latest News
There are so many new land releases across the Hunter. We'll update you with the latest news on the best land releases
Vantage Release at Waterford living
Earthworks are underway on Sage 3 Vintage Release at Waterford Estate, Chisholm. Check out our exclusive House and Land packages on Lot 34138
$20M WATERFORD DISPLAY VILLAGE ANNOUNCED
Nine local and national builders have been selected to work on 22 display homes as part of the stunning new $20 million Waterford Display Village in Chisholm.
Situated in Chisholm, Waterford by AVID Property Group has been a popular choice for home buyers, with the new display village set to offer a range of superior housing options for those looking to design their own home.
"We are thrilled to announce our Waterford builders, who will play an important role in shaping a destination for home design and lifestyle visioning,"
"All home buyers' needs are unique, which is why having a wide range of choice is important to us – whether visitors are looking for a family-sized home or a more compact home, Waterford Display Village will have something to suit everyone.
"The Waterford Display Village builders all have exceptional experience in home building and they will continue to bring their renowned craftsmanship and detailed knowledge to the Chisholm community – right here, in person,"
"Located half an hour from Newcastle and at the beginning of the famous Hunter Valley region, Waterford is not only a beautiful area, but also close to great schools, shops and other amenities."
"Having a display village is an absolute must – nothing compares to walking through a finished product and imaging what it would be like to live there."
Construction is scheduled to start in May 2019, with completion to be reached in early 2020.
Waterford's new display village builders include:
1. Bartlett Homes
2. Clarendon Homes
3. Eden Brae Homes
4. McDonald Jones Homes
5. Metricon
6. Mojo Homes
7. Perry Homes
8. Simonds
9. Domaine Homes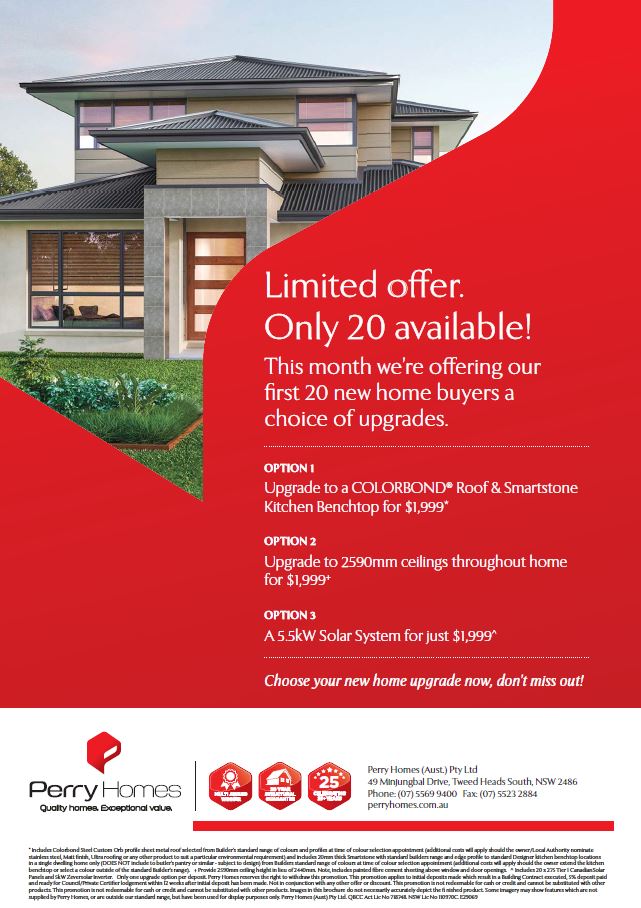 FOR THE MONTH OF May 2019 - DON'T MISS OUT ON OUR PROMOTION. Select one of these four options.
Option 1 – 50% off the price of our new range of single storey facades*
Option 2 – Colorbond roof & Smartstone kitchen benchtop for $1,999**
Option 3 – 2590mm ceilings throughout home for $1,999***
Option 4 – 5.5kW Solar System for $1,999****
*Includes Metro, Hampton, Executive, Classic, Seaspray, Contemporary and Urban facades to single storey core product homes only (excluding acreage homes) with standard inclusions. Upgraded materials, for example feature brick and cladding will be charged at our normal rate.
**Includes Colorbond Steel Custom Orb profile sheet metal roof selected from Builder's standard range of colours and profiles at time of colour selection appointment (additional costs will apply should the owner/Local Authority nominate stainless steel, Matt finish, Ultra roofing or any other product to suit a particular environmental requirement) and includes 20mm thick Smartstone with standard builders range and edge profile to standard Designer kitchen benchtop locations in a single dwelling home only (DOES NOT include to butler's pantry or similar - subject to design) from Builders standard range of colours at time of colour selection appointment (additional costs will apply should the owner extend the kitchen benchtop or select a colour outside of the standard Builder's range).
***Provide 2590mm ceiling height in lieu of 2440mm. Note, includes painted fibre cement sheeting above window and door openings.
****Includes 20 x 275 Tier 1 Canadian Solar Panels and 5kW Zeversolar Inverter.
Perry Homes reserves the right to withdraw this promotion. Only one upgrade option per deposit. This promotion applies to initial deposits made which result in a Building Contract executed, 5% deposit paid and ready for Council/Private Certifier lodgement within 12 weeks after initial deposit has been made. Not in conjunction with any other offer or discount. This promotion is not redeemable for cash or credit and cannot be substituted with other products.
welcome to mount view grange at bellbird
Exciting new land release with land prices from $160,888
10 minutes to M15 Expressway

15 minutes to Vineyards

25 minutes to M1 Freeway

1 hour to CBD and beaches
WELCOME TO OUR NEW DISPLAY HOME AT 20 DARLASTON AVENUE, THORNTON PH: 4077 3833
INTRODUCING THE MALIBU 24 - DESIGNER PLUS
Perry Homes Exclusive deal
upgrade to the ultimate in flat concrete roof tiles. Call Hunter Region House and Land for further details.
Coming soon. FIRST HOME BUYER INFORMATION NIGHT
Sign up with your email address to receive news and updates regrading our first home buyer information night HERE.
grand opening at hunter parklands estate
Twenty-Four near level 2000m2 blocks. Prices start from $249,000
Mckeachies run stage 46 land release
HIghly sought after land is now available at McKeachies Run. 7 new blocks have just been released, land is selling quick, so get yours now!
Wyndham Ridge
Our Rep, Lisa Simmonds-Webb at the land release at Wyndham Ridge Estate.
Cliftleigh Meadows Stage 12
Stage 12 at Cliftleigh Meadows. Land is Selling fast, so be quick. Registering April 2019.
Back by popular demand
For a limited time, we're offering a COLORBOND roof and 20mm thick Smartstone kitchen benchtops for only $1,799
POTTERS LANE AT RAYMOND TERRACE - Stage 7
Earthworks are underway and land is expected to register August 2018 -
MAITLAND VALE ACREAGES STAGE 3 RELEASE - 26 & 27 mAY 2018
Land registration expected October 2019